Busy, busy, busy. That would be the only way to describe the Summer of 2021. As the COVID pandemic stretched on, demand for local manufacturing services continued to be very strong.
We saw the continuation of "passion projects" that gave folks an outlet to stay engaged during the extended downtime as well as a number of commercial prototypes and projects where our customers were clearly thinking about what it meant to have dependable local manufacturing at the core of their product strategy.
Frankly, we've been machining a lot of things that probably would have been sent offshore a couple years ago, and that's very exciting.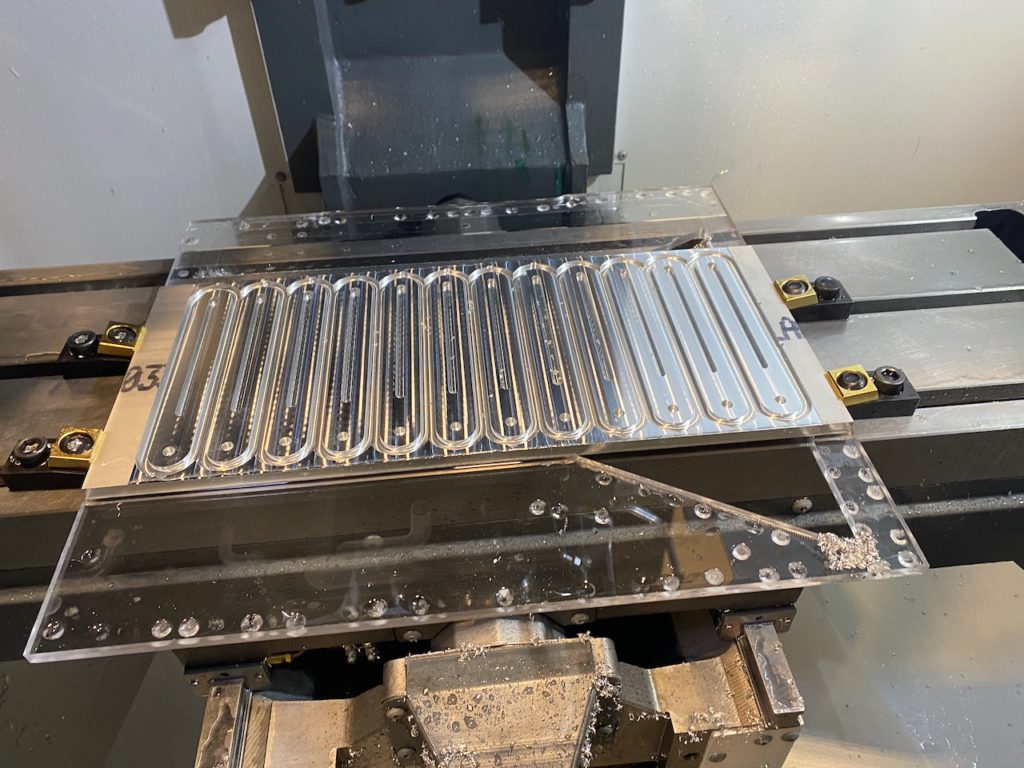 Highlight: Spectre Vehicle Design Type Ten
If there has ever been a definitive dream project for me and the shop, it has be working with Spectre Vehicle Design on their Type Ten Prototype. These guys are the real deal – this is a team with design, mechanical, engineering, and marketing, and business savvy second to none. They completed a beautiful, visionary build that re-imagined the classic Mini Cooper as a modern, mid-engine performance car with impeccable style and performance characteristics.
At the shop, we were fortunate to be selected to machine a vast array of parts for the vehicle ranging from the wood interior parts cut from solid White Ash, to the wheel centres and steering wheel machined from solid Billet 6061 Aluminum, and even a dash of Corian for some of the really cool surface treatments on the Type 10.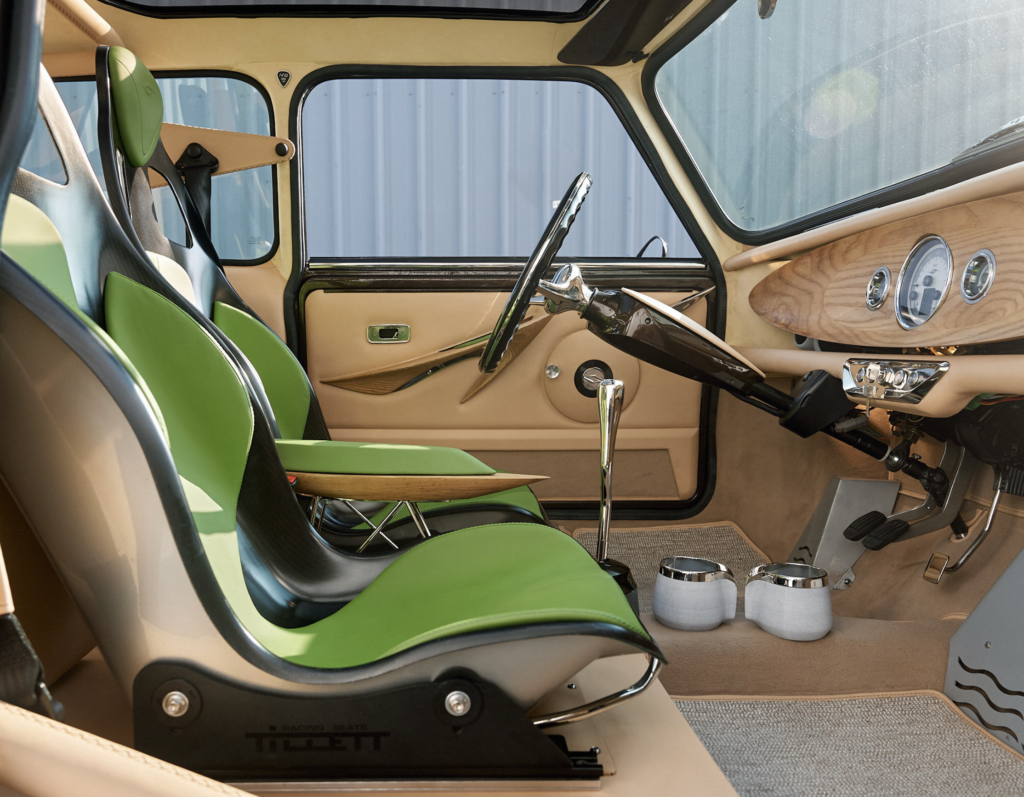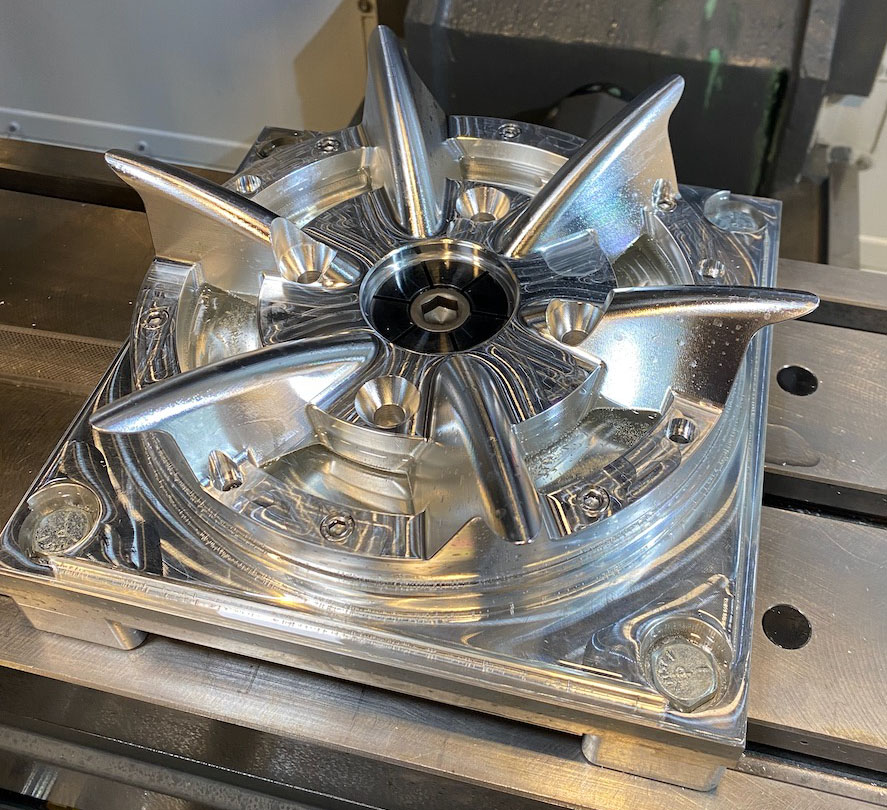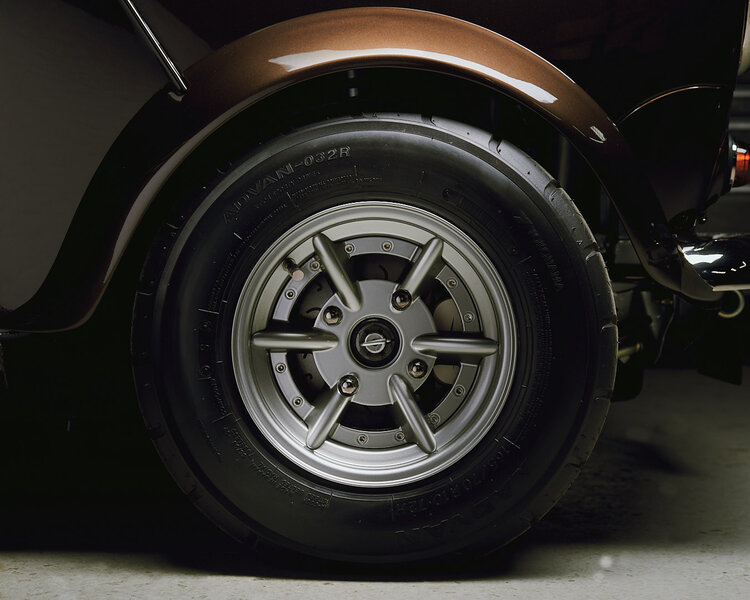 With a momentous frantic push, coupled with the incredible build expertise of the Spectre guys, the Type Ten made it's debut at Monterey Car Week and was quick to be recognized as a truly remarkable vehicle:
Next steps are to get the Type Ten ready for a limited production run of 10 vehicles. We're very excited to be working with the team to provide DFM feedback and optimization for the upcoming production units.
Highlight: Haas TM2 Addition
Honestly, Greater Vancouver is a bit of a desert when it comes to manufacturing and especially being able to get one's hands on any used or surplus equipment. With lead times on new machine tools hampered by supply chain issues and the usual COVID-this, COVID-that tales of woe, it's been a bit of a drought in terms of being able to ramp up production capacity in any sort of cost effective manner.
Despite desperately needing more capacity, one of our core tenets at Big T's is to maximize capital utilization. Dropping large deposits on pandemic-priced machine tools with undefined lead times just doesn't work within those guiderails.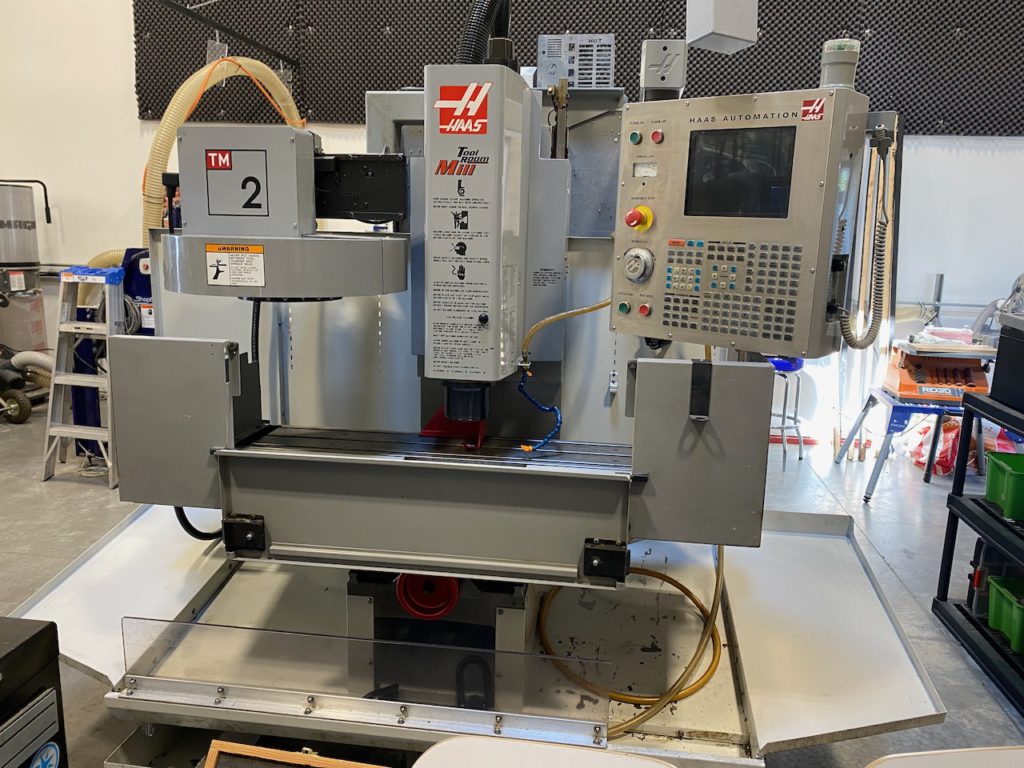 That said – sometimes you get lucky! Our new friend, Big Brent from Magmar Manufacturing in Abbotsford just happened to be looking to move this beauty of a TM2 from his shop in order to make way for some new gear.
If there's only one word to describe this machine, it's got to be "versatile" with all the bells and whistles including automated probing and tool setting, it makes quick work of setups and all of those little second and third operation details like drilling and tapping holes and reworking parts.
Very excited to have this machine online now, and it should definitely alleviate some of the pressure and backlog on the other equipment.
Challenges – The Job Shop Dilemma
One thing I can say with a straight face is that I am never bored. Never. Ever. Bored.
However – I have also discovered that there's a bit of a limit to the cognitive load that physical context switching can have, particularly in what our industry refers to as "High Mix/Low Volume Manufacturing".
What this means is that the shop sees a lot of different customers, and a lot of different designs and products, but typically is delivering small volumes of the parts being manufactured. The dilemma here is that most of the work is in the set-up and programming of the parts. Once the machine is loaded with tools and a block of material, the rest is relatively hands-off.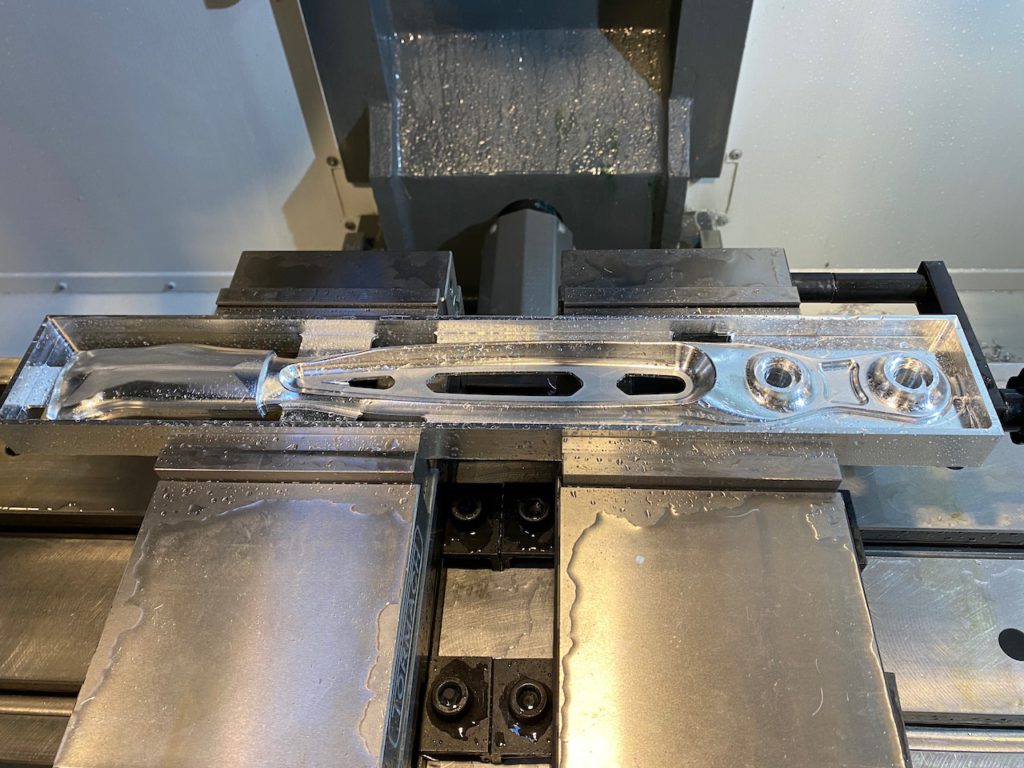 The time spent setting up the machines with tools, fixtures to hold the parts and materials, and programming and verifying the programs is a difficult one to account for, and even more difficult to charge out against very small jobs. Small parts may only take an hour to program, and 30 minutes to run, but may also involve having to spend an hour loading tools, changing over work holding, and getting the machine ready, especially if they're very different in nature from the job previously run on the machine. One job might be to run steel plates, and then you have plastic up next…. very different setups.

For a customer just looking to get a couple of small parts made, the difference between 1.5hrs and 2.5hrs is substantial. Most shops do the sane thing and just bill this, or set minimum dollar spends on jobs. And, although that's kind of standard practice, I have always challenged myself to see if we can do better, somehow, to bridge this gap to reduce setup overhead and make these jobs both cost effective, yet profitable.
I actually really believe that to take manufacturing back and to get "local" requires a solution to this problem. But, it's not trivial. Systems for simplifying set-ups and making it easier to load different parts are available but many of the best of them can be investments of $10K+ by the time you buy all the bits and pieces, and then instead of the problem of recovering the money for set up time, you're just stuck with the problem of recovering the money for the set-up tools that you dished out $10K for. Sort of the same problem. Neither scenario great for the customer.
When we rolled the TM2 into the shop, it seemed like a good candidate to test out some solutions to the problem. It's a pretty simple machine with easy access to the table, and our intent for it is to use it for most of the smaller second and third op type work where parts are coming off the other machines and say need additional holes drilled and tapped, or the back face of the part needs to be cleaned up, etc.
After reviewing options from companies like 5th Axis (Beautiful, automatable, very smart, very very expensive) and Saunders Machine Works (simple, manual, still quite expensive), we decided to give Saunders a try and have set up their fixturing solution on the TM2.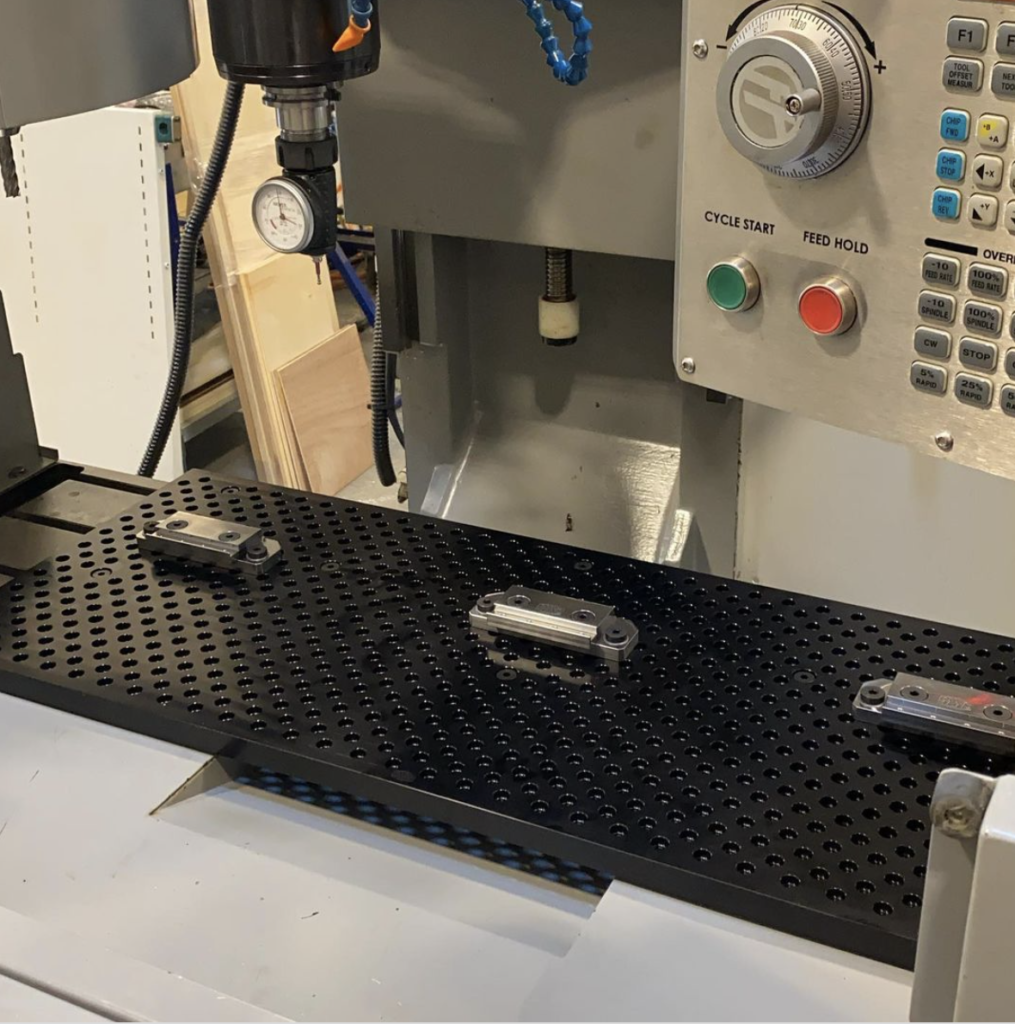 The idea with a fixture plate like this is that once the plate is carefully trammed (aligned with the axis of motion) on the mill, then subsequent setups are fast because you're guaranteed that all of those holes are already in alignment with the machine, so you can drop down a vise, clamp, pallet, or anything with locating pins on it without having to spend a bunch of time dialling that in.

Will it work? We'll see. So far, I've only had to do a couple basic setups, so haven't really experienced the magic of switching out all the work holding in a flash, but fingers crossed that this makes it easy and much less mental overhead.
Revisiting the 2021 Roadmap
Ok. So, we set some goals for ourselves at the start of the year – how are they going?
To recap, the 2021 roadmap is:
Maximize Use of Capital
Automation
Robotics and Machine Learning
Stay Hungry and Humble
Capital Utilization
Still looking good here. The temptation is always to spend money to solve problems, which works to a degree. But, as noted with the fixturing and work holding issue, you need to be kind of clear on how much it costs to solve a problem, and how you amortize the cost of that solution over the types of jobs you have ahead of you.
So far, the principle of not digging in too deep on brand new machinery has been working. The worry has always been in terms of discovering some flaw or expensive repair required on a piece of used machinery, but (knock on wood) so far that has not been a thing.
That said – the day is coming where we now have a much better picture of the type of customer, type of jobs, and general flow of the business. It's coming up on a year in the current strategic plan, and almost certainly for 2022 the plan will include, "Find the right machines for our job work" which may involve some capital outlay.
It has been absolutely the right idea to try work with what we had available, and the Haas TM's continue to punch above their weight in terms of being accurate, sufficiently fast, and reliable enough to crank out the current work in the shop.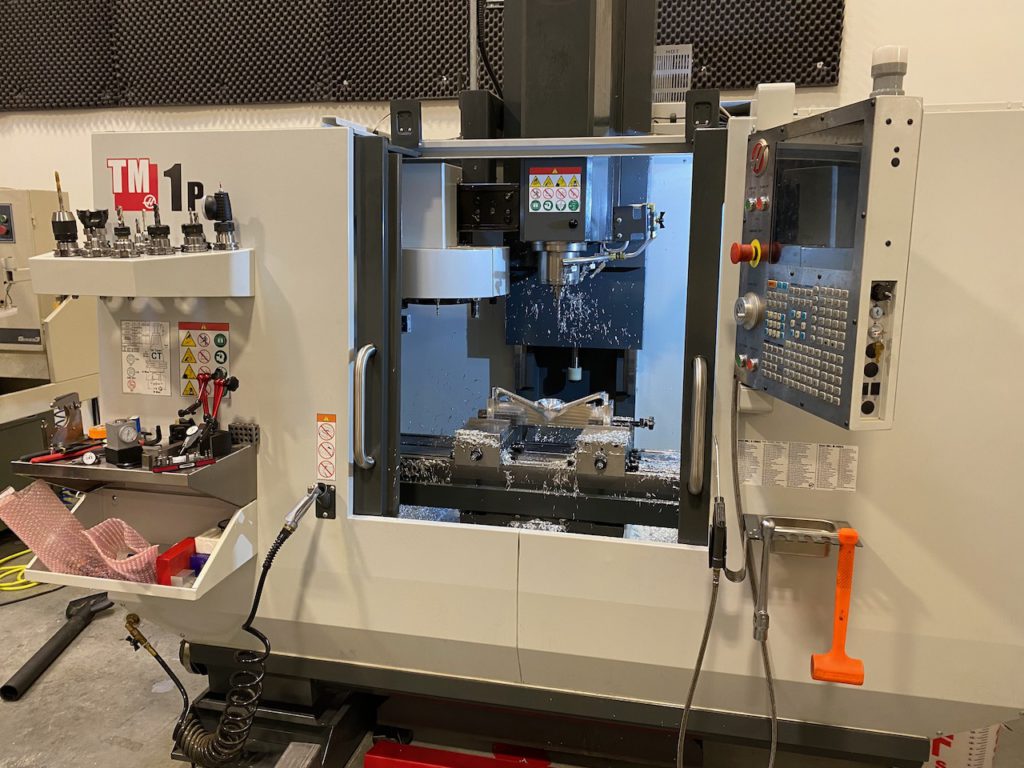 Automation / Robotics and Machine Learning
If there's an area that has stumbled a bit over the summer, it's probably some of the ambition around automation, and robotics in particular.
There's two issues slowing down this progress:
High Mix / Low Volume Machining – Realistically, even though the robot is intended to be versatile, it really doesn't make sense to mobilize it on runs of 2 or 3 parts. Some of our customers had indicated their production runs might increase, but largely, as a job shop, we're still operating in the realm of a handful of given parts per run. If it was trivial to mobilize the robot, then it would still likely make sense, but that's a good segue into #2.
Set Up Overhead – As discussed above, the "Job Shop Dilemma" means that machines are constantly getting reconfigured – small parts, big parts, long parts, plastic, metal, etc. all have slightly different requirements for work holding and tooling. One of the challenges with the robot is that it needs to be trained each time the vise position on the table of the CNC changes, and this training process is painful. Actually, very painful. So, in addition to the overhead of having to switch over the vise, and put the pneumatic vise back on the table for the robot system, there's an additional step to train the robot to be able to find that vise. Not good.
That said, we have not abandoned this idea – in fact, solving these problems may end up being a massive opportunity. You'll be seeing some very interesting R&D coming up this fall, so stay tuned!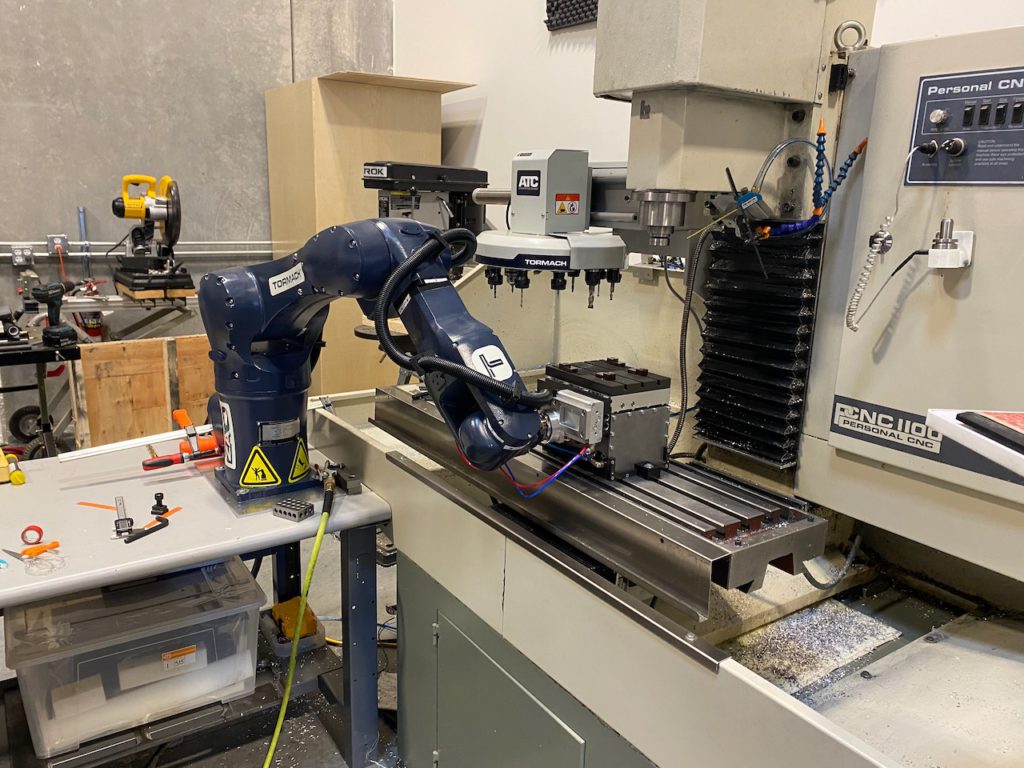 Stay Hungry and Humble
Lots of take home lessons here as we took on the machining of some very complex parts over the summer, especially for the interior of the Spectre Type 10. No problem staying humble when you're literally scrambling every day to find unique solutions to fixturing and machining really exotic parts and contours. I'd say I had a lot of gratitude both for being presented with the challenges, and then for somehow finding a solution to almost all of them!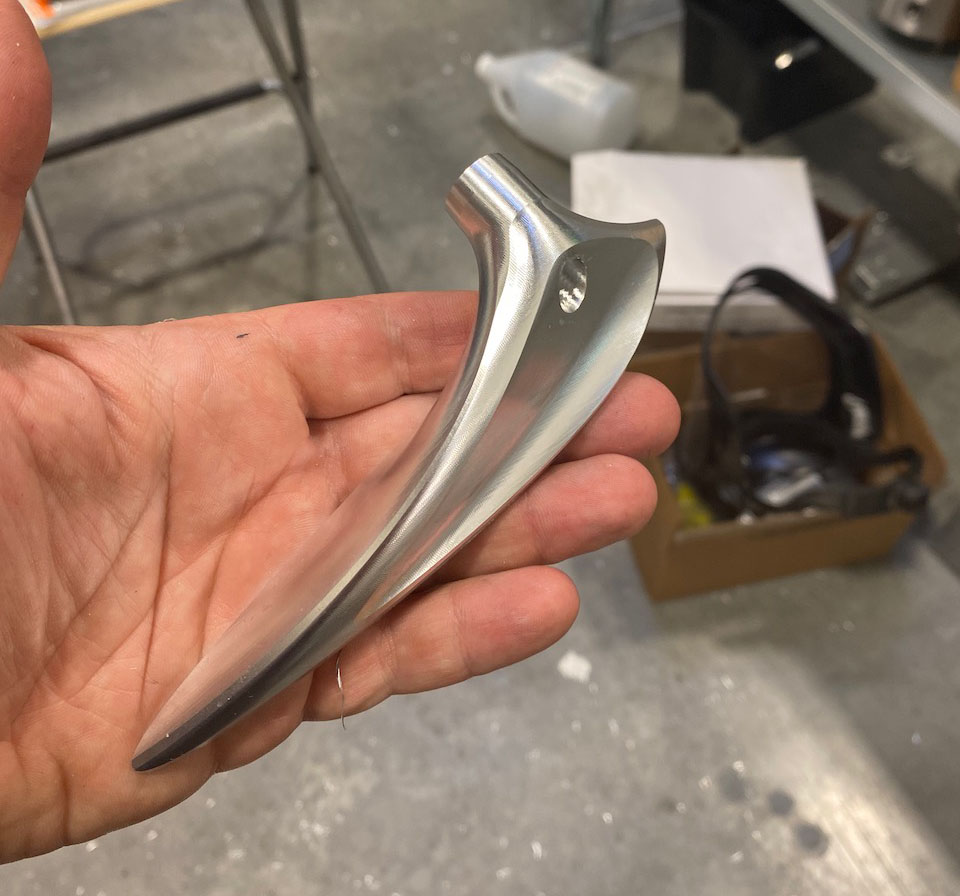 Hungry is an interesting one. When I initially coined this term, I had imagined it to mean "don't get cocky and turn down good work" but I have learned that sometimes you might have to. Or, maybe more fairly, you might have to define what good work looks like for you and your capabilities.
---
Cautionary Tale Anecdote:

You also need to watch out a bit. Although I always try to focus on the positive, it's important to acknowledge that not everyone operates with the same ideology or morals as our shop. There's a fair number of folks out there still operating with a bit of an antiquated notion of how to get ahead in business. The most common one I've seen is the bait-and-switch on quantity.

It goes a little like this:

"I need a quote on 200 of these – best price, or I'm going to China" (even though that may or may not be possible these days).

After consulting material vendors, tooling vendors, and providing the "best price". We get, "Great. Let's make this happen. I need 4 samples for inspection and then we're good to go. Get everything rolling."

(Jigs are created, samples are machined, inspected, fretted over, and delivered to high quality.)

"Thanks! I'll be in touch when I'm ready to order."

"Wait. I thought these were inspection samples and we're good to go."

"Oh. No. I just need four for now."
Now, in some sort of old-school, screw-your-vendor, the-best-deal-is-one-when-nobody-is-happy kind of way, this is all part of the game. However, I don't roll this way, and it's not a great business practice IMO.

So… that's one example of maybe not being too hungry. Chasing deals like that will actually make you more hungry, literally, because you won't be able to afford food.
---
Overall though. People have been great this year. Staying hungry has been easy because there are so many great projects coming in, and there's a real sense that we need to work. together to overcome some of the supply chain woes we've seen in 2021. I think it's a bit of a golden era for understanding the value that a local manufacturing partner brings to the table.
Looking forward to finishing out the year. So far, looks like there's no shortage of things to do, and we're looking forward to meeting new customers as well as continuing on with the cool projects already underway.
Trent "Big T" Shumay